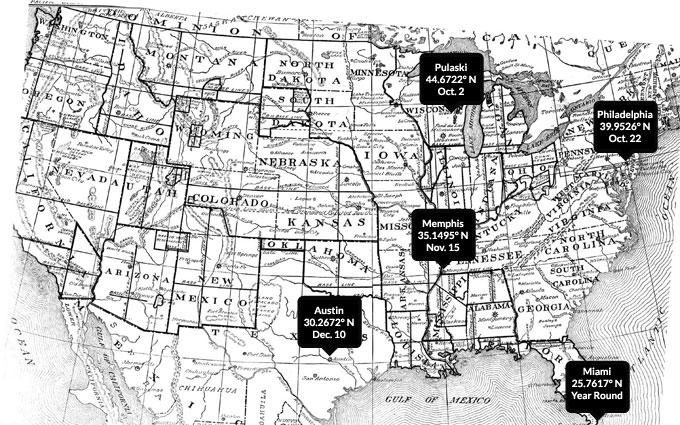 How much longer can I get away with wearing white pants? With global warming in full swing I'm thinking Columbus Day. What brand of white pants should I wear now?
—Best, Aaron.
A: While Earth has warmed since we last addressed this issue in 2011, we adhere to our advice that white is OK up until the end of the MLB regular season — check the schedule — or until it's still warm enough to have sex outside, whichever is later.
However, recognizing that this is a big country spanning many latitudes — a white pants end date should be different if you live in Fargo or Flagstaff — we added an important corollary to our White Pants Doctrine, and allow an additional 5-day window for each latitudinal degree your location is south of 44° N. Until we create a Google Maps app to show this, the above map shall suffice.
In short, Aaron, depending on where you live, your Columbus Day deadline may be right on the money. Or if you're south of the Mason Dixon line you're abandoning white pants potentially a month too soon. Please look at the map. If you have any questions let us know.
As for brand of white pants, we go primarily for denim these days and can strongly endorse the Uniqlo Selvedge Slim-Fit Jean. Now on sale for $34.90, we're pretty confident in saying they're the best white selvedge denim value on the market. Vanity waist sizing in effect.