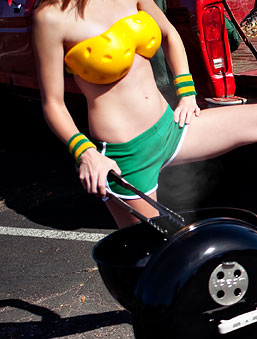 Why is the male in your header dressed appropriately for the subject of your banter, while the female looks like she belongs more on the Wisconsin version of "Jersey Shore" ("Door County Shore?")?
--Allison

A: Allison, Monday through Saturday Nicole is dressed in cashmere and pearls. But on home-game Sundays she falls victim to the spell of the Packers, and dons green American Apparel shorts, grilling tongs, and a cheese bra. Like pickled herring, cannibal sandwiches, and brandy Old Fashioneds, you kinda have to live here to understand.

Anyhow, we love the Door County Shore concept and are ready to write a treatment for MTV. We can see Snooki and The Situation slinging fish boils at the White Gull Inn and sundaes at Wilson's Ice Cream Parlor. Thanks for the suggestion.