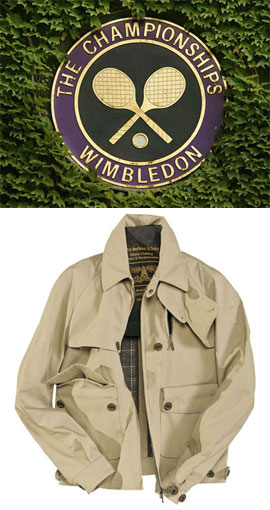 Q: I'll be traveling across the pond to see Wimbledon next month and I'd like to strike a balance between artful dishevelment and weather preparedness. What would you suggest in the way of light outerwear that would be appropriate for Centre Court and/or tea with William and Kate?
—Eric

A: An obvious choice is the classic and almost entirely logo-free "Made in England" Baracuta Harrington G9. It's got a touch of Teflon to repel the inevitable rain delay, and it has long been the choice of stylish Yanks (McQueen, Sinatra) adept at adding a note of elegance to even the most casual look. But it doesn't offer much in the way of artful dishevelment or surprise. Kate will be bored.

Instead, we recommend this bonded blouson, a collaboration between iconic British brand Barbour and Japanese designer Tokihito Yoshida. Barbour's almost as old as Wimbledon itself, and holds three royal warrants for its waterproof and protective clothing. (What, you don't know what a royal warrant is? Brush up on your Anglophilia.)

Tokihito infuses Barbour's classic style with some 21st century urban streamlining. With their traditional abundance of pockets, buckles, and heavy waxed cotton, much of Barbour's stock is a little too busy for us. But this collaboration is strikingly pared down, retaining just enough flaps and buttons and zipper pulls to provide some texture for the artful dishevelment you seek.

Note: Prices on this range from $245 to $450, so shop around.

Earlier: Rafael Nadal: A weird combination of Menudo and Rambo.

Earlier: Umbrella recommendations.