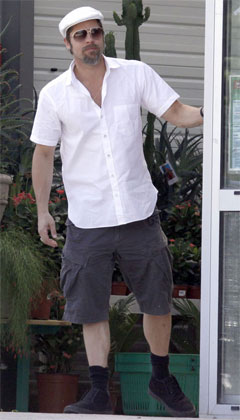 Q: I need a winter hat. The Chicago winter is fast approaching and I have been scouring both brick and mortar and the internet for a hat that works for me. It's difficult because flat caps seem to be way too ubiquitous. Also, every fedora type hat I have ever tried on makes me feel like a total toolbag. That leaves very few styles short of just your standard knit cap, which I sometimes wear. However, I long for something a little more unique. I have looked into the Stormy Kromer hat you mentioned last year, but I feel the baseball bill really isn't my thing. Any help you could give in steering me towards a new hat would be greatly appreciated.
--Steven

A: Besides being ubiquitous (in spite of Cuba Gooding Jr. signaling them as outgoing a while back), a flat cap vs. Chicago winter is the equivalent of scissors vs. rock. Same with a fedora.

In the winter months we advocate cashmere from head to toe, and if you can't currently swing a drawer full of $250 Maurizio Amadei cashmere boxers and $64 Paul Smith cashmere socks, start with the head and work your way down. This this 5+1_Annapurna ($98) and this Malo ($79) and this Bottega Veneta ($220) are all knit caps, but they're far from ordinary.