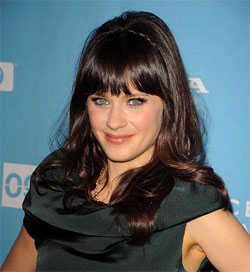 Q: Do men prefer curly or straight hair a woman? In addition to that, do they prefer short or long hair? What's sexier in your opinion?
--Nora

A: Curly, straight, short, long ... it really doesn't matter. Except for bangs. No bangs. Sorry Zooey Deschanel, this just isn't working out.

Nora, you know what's sexier than a hairstyle? Personal style with a point of view, intelligence, and most of all: attitude. Unfortunately these aren't available at a salon.