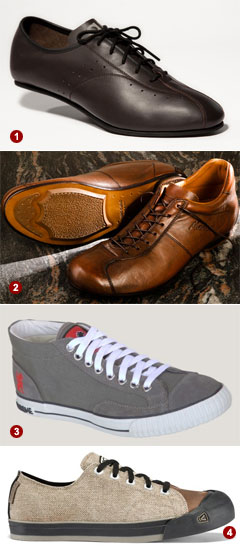 For commuting and utilitarian riding we prefer platform pedals over clipless -- that way we don't have to change shoes when we get off the bike. But just because we're not clipping in doesn't mean we don't want shoes with some cycling-oriented features. Moving from dressier to more casual, here are four pairs we like.

1. Quoc Fam Fixed Shoe. $130.
A hand-crafted leather cycling shoe that looks as sleek as a Prada loafer, plus it comes with a super-complicated ten-step lace-tying guide? We're sold!

2. Dromarti Storica. $237.
We're not sure why, but these shoes make us think of vintage catcher's mitts, and we like that: Catcher's mitts for our feet, crafted by Italian designers. Do you want anything less when you're speeding through the city on two wheels?

3. Chrome Midways Sneaker. $90.
Chrome designs for the messenger demographic, so they know all the features it takes to equip your standard mid-top for heavy-duty bike usage: Reinforced shank to support the midsole, reflective material on the heel cup, a "lace garage" to keep your laces out of your chain, etc. Yep, "lace garage." It's that little elastic thing in this pic, and it works. Synthetics alert: The Midway is made from Cordura nylon. Normally we favor natural materials over synthetic ones, but if you want a tough, scuff-resistant shoe, this is the one to get.

4. Keen Coronado Bike Shoe. $80.
Here's a casual option made with canvas and nubuck leather. Like the Chrome Midway, it's also got a shank in the midsole for more pedaling power than you'd get with a traditional sneaker, plus a "a soft rubber forefoot pod for pedal grip." It sounds like marketing BS, but if you've ever experienced the banana-peel-like slip that can happen when you suddenly start pedaling hard on platform pedals while wearing shoes with slick and/or non-grippy soles, you know why this is important.

In honor of Bike to Work Week, we're giving away an awesome Bowery Lane Bicycles' bike. It's a $695 value and all you have to do is send us a cool picture.