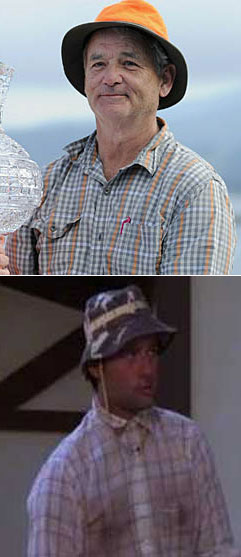 Golf is a gentleman's game. If you work up a sweat, you're working too hard. Go back to the driving range and smooth out your swing. There's no need for performance polyester polos, ever.

For thirty years Bill Murray has been quietly -- albeit in a visually loud way -- preaching this gospel. As far as we can tell, he is the only golfer of note -- pro or amateur -- who consistently wears long-sleeved wovens on the course. Don't let the hats that even Tyler Perry wouldn't wear distract you. Don't be put off by the fact that he invariably looks like a sack of dirty laundry when teeing off. Style-wise, he ends up in bunkers and hazards more than Charles Barkley, but his allegiance to the long-sleeved woven -- starting with his iconic turn as Carl Spackler in Caddyshack and continuing through his first Pebble Beach victory yesterday -- is as straight and true as a Tiger Woods drive (back when he was good).

Earlier: Five looks for accepting the Masters green jacket that make Murray look even better.

Earlier: Putting and drinking -- do they mix?