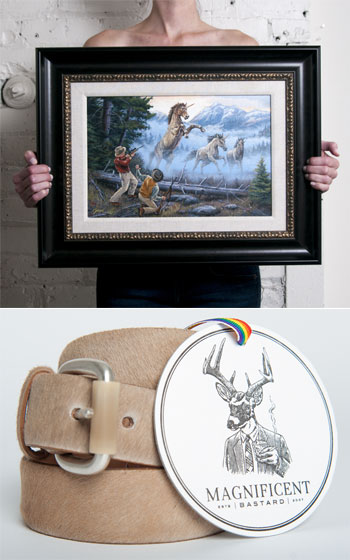 Unicorns are typically presented as fancy, flouncy creatures, like show ponies in drag. As it turns out, that's not true at all.
How do we know? Let's just say that on an elk hunting trip in Jackson Hole last year, we got the surprise of our lives.
Hypothetical question #1: Is it wrong to turn the most fantastic specimen the universe has ever produced into luxury menswear?
Hypothetical question #2: When a weaponized ungulate is bearing down on you at 60 MPH, does instinct sometimes take over?
Okay, truth is, these questions aren't so hypothetical. One moment, we were placidly contemplating the merits of two-button suits. The next, Satan's hell-horses were upon us. Racing toward us at impossible speeds. Snorting like dragons with hay fever. Suddenly, it was the age-old story: Man vs. beast. Them or us.
Everything happened too fast for photos, but after hours of hypnosis, and in collaboration with acclaimed wilderness artist Darrell Bush, we have re-created the scene in oil and canvas.
Also, we have some belts for sale. A limited edition series of 150. The roller on the brass buckle: genuine horn. The strap: genuine hide. The raw materials were shipped to New York City, where a fancy leather goods manufacturer produced the finished product you see here.
These belts aren't just belts. They're beautiful works of art that you could hang on the wall over your sofa.
Or, if you're stylish and brave, wear them as belts. Why "brave"? Well, as the postcard we're including with your purchase explains, we've been undergoing some odd effects when we wear these belts. The most significant: When we belch, it sounds like a dainty wind chime. Probably all in our heads, but considered yourself notified.
As for the wall over sofa, we've got that covered too. Along with the original oil painting we commissioned from Darrell Bush, we've also ordered a limited-edition run of 100 canvas giclée prints. These are signed and numbered by Darrell, and come with a certificate of authenticity. A less exclusive but still stunning portrait of this timeless hunting scene is available on archival paper, too.
Lightning rarely strikes twice. So while it's certainly possible we may run into a pack of angry unicorns a second time, we have to believe the chances of a Series #2 belt are low. If you want to be part of Series #1, act now.