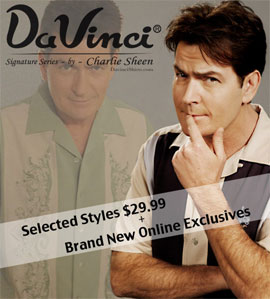 After the producers of his TV show officially fired Charlie Sheen, the supernatural sitcom star said the most sensible thing he's uttered in months, possibly years: "I never have to put on those silly shirts for as long as this warlock exists in the terrestrial dimension."

Turns out that while Sheen may have despised his Two and a Half Men wardrobe as much as the rest of the sighted world, he also endorses and even helped design a clothing line -- the Charlie Sheen Signature Series by DaVinci -- that markets these two-toned, polyester-blend torpedos of retinal destruction.

What good is having tiger blood and Adonis DNA if you cover it up all in Herculean toolbaggery that looks like the official jersey of the Las Vegas Blackjack Dealers Association bowling league?

Only a next-level genius like Sheen can answer that question. What really worries us, though, is that when DaVinci launched Sheen's Signature Series in 2009, the renaissance madman said he planned to expand the line beyond shirts in the future.

Now, he's got the time to do it. And since his first clothing venture, Sheen Kidz*, a "couture-quality" line of clothing for little girls who aspire to dress like the Real Housewives of Beverly Hills, went belly up a couple years ago, we figure he'll be channeling all his clothing design energy into his DaVinci line. We bet Tom Arnold is clearing up some space in his pants closet at this very moment.

* Note the use of "z" in "kidz," to make satin-accented couture-wear for four-year-old girls seem more street. Winning!