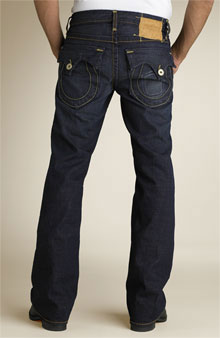 We're perpetually perplexed by the apparent success of True Religion jeans for men. Where do they get off charging $282 for their denim?

True Religion works great on select women, and men with significant amounts of extra chub, but if you work at staying in shape, why would you ever consider hiding a potentially winning asset behind long, deep pockets with flaps and large shiny buttons?
You wouldn't.

This brand is headed post-peak. Avoid, even if on sale.