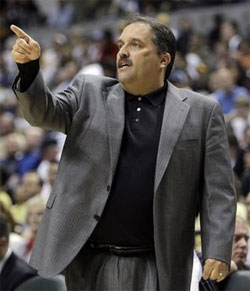 Category 5 toolbag Stan Van Gundy is merely a regional style catastrophe 10 months out of the year. Every spring, however, the coach of the Orlando Magic becomes a national one during the NBA playoffs. Last night reader Nick wrote:

"Surely Stan Van Gundy of the Orland Magic deserves elevation to some sort of super toolbag status based on his 'attire' (using the word loosely) for Game 1 against Atlanta. The combination of mafia suit style, with black t-shirt, all completely ill-fitting even had my wife pausing in astonishment."

To Van Gundy's credit, he has replaced last year's mock turtleneck with a polo shirt. If he keeps that up, he may be downgraded to Category 4.