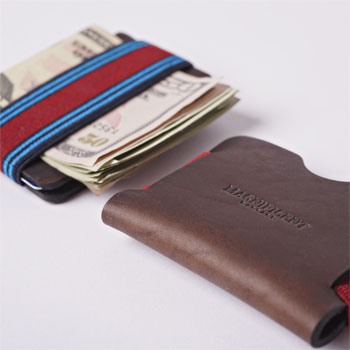 Are you walking around with a piece of 19th century technology in your back pocket? Today, we introduce the antidote to bulky, obsolete legacy billfolds that were designed for an era when wallets moonlighted as photo albums: The Minimum Viable Wallet.
We start with a single folded piece of Horween leather. We add an elastic strap that attaches to the folded piece using two brass clips. You store your credit cards inside the folded leather. You use the elastic strap to secure your cash.
Sure, we could have made it even simpler, but then it would not be viable. What you see here is exactly how much wallet a man with a large line of credit and an enduring desire to occasionally brush his fingertips against a few real bills needs to function in the current moment.
The straps are changeable, because we know a man gets restless, even with his wallet. With our system, you can customize your Minimum Viable Wallet as the situation warrants. Going to the game? Then you'll need the Lambeau Pride strap. Meeting with Moroccan arms dealers? The Secret Agent works best for that. When you purchase a Minimum Viable Wallet, you get three straps of your choice. And you have three leather platforms to choose from: Horween Chromexcel Brown, Horween Chromexcel Black, and last but definitely not least Horween Latigo Rio. Just $25. Have a look.