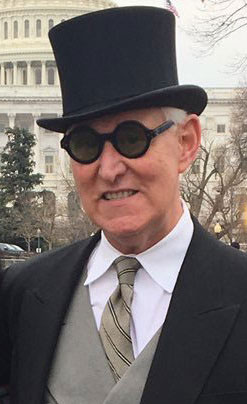 One of our readers recently started a new white-collar gig in downtown Minneapolis, and based on an Ask the MB post from last year, asked us to get him dressed in a similar way. For the right price, we agreed.
STYLE ARCHETYPE: Our client's target archetype was "English landed gentry," and while Anglophilia is an MB principle, it immediately conjured thoughts of Roger Stone at Trump's inauguration. After some back-and-forth we landed on "urban landed gentry," which forgoes top hats and double-breasted suits in favor of plaids, tweets, velvets, and corduroys. It also allows for sneakerization of his footwear.
BUDGET: We settled on $2000 as a ballpark to purchase 4 woven shirts, 3 sweaters, 2 blazers, 3 pants, 2 shoes, one suit, and a few accessories for a fall/winter collection. It's a somewhat arbitrary number but constraints are useful to drive creativity and craftyness. Bonus: F/W 2018 is on sale we should get tremendous bang for the buck.
TIMING: We are preternaturally lazy — and also perpetually lit — so our client is currently going to work naked. But we plan on having him wearing his new F/W clothes just in time for S/S.
WHY ARE WE DOING THIS?: It's one thing to sit here and publish suggestions to a newly-minted museum director. It's quite another to actually order the items, try things on, see what fits and works in the overall look, and what doesn't. We plan on posting tasting notes on the keepers and the ones that got thrown back (and why) for our readers' benefit. Finally, and most importantly, we are getting paid.
FIRST UP: Woven shirts. We'll hopefully have a report on our successes — and failures — next week.