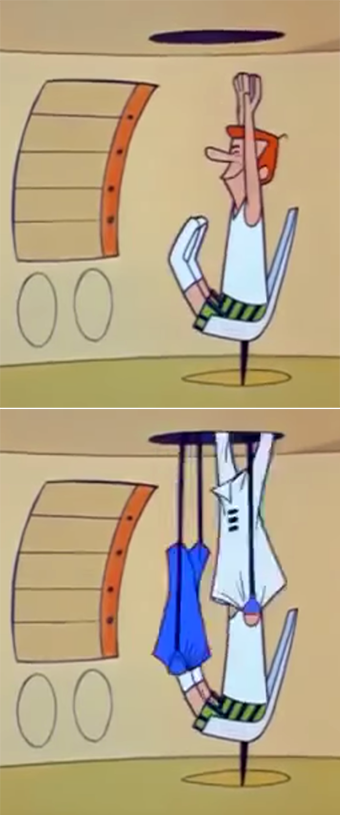 Two weeks ago we settled on four shirts as the first step in the MB Build process: 3 plaids in wide-enough ranging check sizes and color combos to provide sufficient variety, and one solid, necessary for the times our client wears a tie. The total was $240, leaving a $1,760 balance from our original $2,000 budget.
Part 2 is sweaters. For now we're investing more heavily here (3) than our original museum director recommendation and going more lightly on blazers (1), simply because our client is not a museum director. These four items will pair with the shirting, creating a 16-combination torso "uniform" that takes the guesswork out of dressing for work.
Until George Jetson's robotic-arm walk-in closet can be summoned into action with a voice command, our client will still have the chore of putting his arms into armholes and pulling a sweater over his head, but sartorial decision-making can be left to the push of a button.

The Keepers
1, 2 When these two fantastic 4-season silk/cashmere cardigans arrived, we could barely resist keeping them for ourselves. By Heritage, another obscure Italian brand with a 40-year knitwear pedigree that we only discovered after placing this order. We got 'em for $63. They're now back up to $175, which we would still happily pay. If you find any silk/cashmere Heritage you like, buy it.
3 Ballantyne is best known for their funky argyles that rock the links, yet this solid v-neck also tempted us into theft. Like the cardigans, $63 (originally $213).
We Threw This One Back
Uniqlo is likely our top branded retailer, so we ordered this $39.90 merino crewneck. It's a fine sweater. But how ya gonna keep 'em down on the farm after they've tried on Italian-made silk/cashmere?
Budget Update:
| | |
| --- | --- |
| Heritage 1 | -$63 |
| Heritage 2 | -$63 |
| Ballantyne | -$63 |
| Shipping/Returns | -$5 |
| TOTAL | -$194 |
| PREVIOUS SPEND | -$240 |
| INITIAL BUDGET | $2,000 |
| BALANCE | $1,566 |
UP NEXT: Pants or the Blazer, depending on what we find for our client.
EARLIER:
MB Build: Creative Brief and Project Kickoff
MB Build Part 1: Shirts