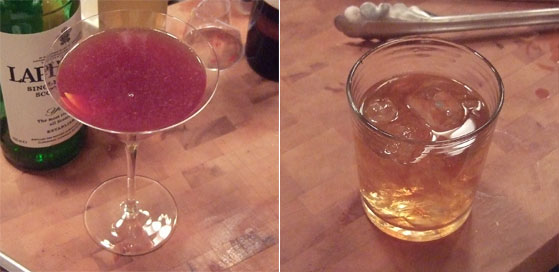 Brian Lee

Ingredients:
1 oz blended Scotch (I like Famous Grouse)
1/2 oz Cointreau
1/2 oz ruby Port
1/2 oz lemon juice
1/4 oz Benedictine
2 dashes orange bitters (I used Fee Bros. West Indian but Regan's would be just as good)

Instructions:
1) Mix all in a shaking tin.
2) Fill tin with ice.
3) Shake until your hands are numb.
4) Pour into a pre-chilled cocktail glass.
5) Garnish with a flamed orange peel (warm the peel with a flame to release the oils, rub it around the rim of the glass, then squeeze the peel so the oils spray through the flame and into the cocktail).

Bryan Swanson

Ingredients:
2 oz Bulleit bourbon
1 oz Berentzen Apfelkorn
1/8 oz Laphroaig 10-year scotch
2 dashes Angostura bitters

Instructions:
Combine all ingredients in a mixing glass filled with ice. Stir vigorously for 20-30 seconds. Strain into ice-filled rocks glass.
Winner:
Bryan Swanson
Score:
4-1
Game Summary:
Lee's cocktail was too one-note and tasted a little like a purple Sunny D. Swanson didn't win rather than Lee lost.
See the full tournament field