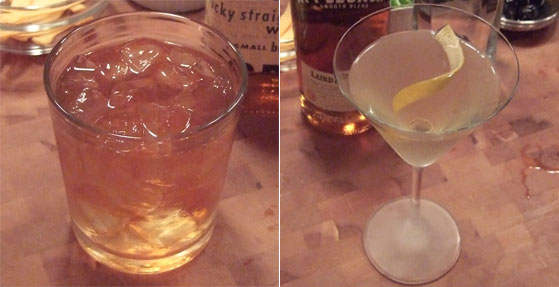 Bryan Swanson

Ingredients:
2 oz Bulleit bourbon
1 oz Berentzen Apfelkorn
1/8 oz Laphroaig 10-year scotch
2 dashes Angostura bitters

Combine all ingredients in a mixing glass filled with ice. Stir vigorously for 20-30 seconds. Strain into ice-filled rocks glass.

John Dietl

Ingredients:
1.5 oz. London Dry Gin
0.5 oz. Bonded Apple Brandy
1 tsp. simple syrup (1-to-1 sugar to water)
4 drops Orange Bitters
1 lemon twist

1. Pour the Gin, the Apple Brandy, the simple syrup, and the bitters into a mixing vessel.
2. Stir with ice.
3. Strain into a cocktail glass.
4. Garnish with a lemon twist.
Winner:
Bryan Swanson
Score:
4-1
Game Summary:
Swanson's is a strong, classic, sexy drink that's dangerously quaffable. Dietl's is a very good cocktail but perhaps better suited for summer, and for the MBG (Magnificent Bastard Girlfriend). They would make a really cute couple.
See the full tournament field
Contest sponsored by
KegWorks