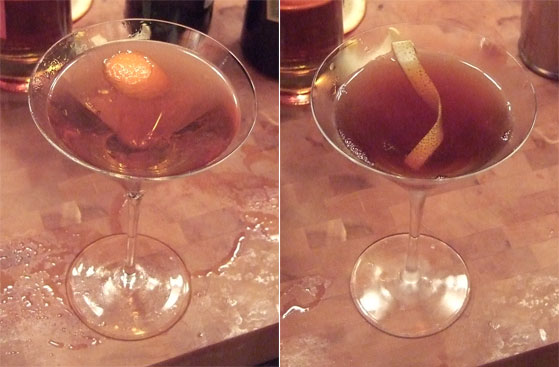 Carie L. Fuller

Ingredients:
1/2 oz. Absinthe (Vieux Pontarlier)
1 1/2 oz. Plymouth Dry Gin
3/4 oz. Carpano Antica Sweet Vermouth
1/4 oz. St Germain Elderflower Liqueur
Full dash of Orange Bitters
Flamed orange peel garnish

Instructions:
Rinse cocktail glass with 1/2 oz. Absinthe
Chill cocktail glass
Pour Gin, Sweet Vermouth, Liqueur, and full dash of orange bitters into mixing glass over ice.
Stir for 20 seconds.
Cut fresh disk of orange peel with fair amount of pith.
Julep strain mixing glass into cocktail glass.
Flame orange peel above cocktail to release delicious, fresh, orange oil mist. Place in glass as garnish.

Akio Katano

2 oz dry gin (Junipero if you've got it handy)
1 oz sweet vermouth (let's be serious - Carpano Antica)
1/2 oz Averna Amaro
1 dash orange bitters (Regan's preferred)
1 dash Peychaud's bitters
1 lemon zest for garnish

Instructions:
1. Combine the liquid ingredients in a mixing glass filled with ice.
2. Stir for a good 20 seconds, until it's very cold.
3. Strain into a chilled cocktail glass.
4. Squeeze the lemon zest over the drink and drop it in.
Winner:
Carie L. Fuller
Score:
5-0
Game Summary:
Katano's cocktail had strong hints of men's aftershave. It was the worst drink of the night. Meanwhile, Fuller's drink was rich and complex, and could be a contender.
See the full tournament field