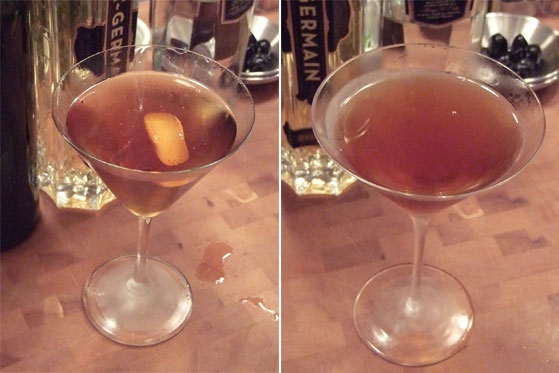 Carie L. Fuller

Ingredients:
1/2 oz. Absinthe (Vieux Pontarlier)
1 1/2 oz. Plymouth Dry Gin
3/4 oz. Carpano Antica Sweet Vermouth
1/4 oz. St Germain Elderflower Liqueur
Full dash of Orange Bitters
Flamed orange peel garnish

Rinse cocktail glass with 1/2 oz. Absinthe
Chill cocktail glass
Pour Gin, Sweet Vermouth, Liqueur, and full dash of orange bitters into mixing glass over ice.
Stir for 20 seconds.
Cut fresh disk of orange peel with fair amount of pith.
Julep strain mixing glass into cocktail glass.
Flame orange peel above cocktail to release delicious, fresh, orange oil mist. Place in glass as garnish.

Tom Brown

Ingredients:
1 1/2 oz Haymann's Old Tom gin
1 oz Carpano Antica Sweet Vermouth
1 dash Kubler Absinthe
1 dash Fee Brother's Peach Bitters

Add ingredients together with ice in a cocktail tin and stir.
Strain into cocktail glass.
Winner:
Carie L. Fuller
Score:
5-0
Game Summary:
Tom Brown met his doppelganger and it turned out to be a lot better looking. Fuller's drink has a nose that makes your mouth water, and it tastes pretty good, too. It's the only drink to go 10-0 through the first two rounds.
See the full tournament field
Contest sponsored by
KegWorks