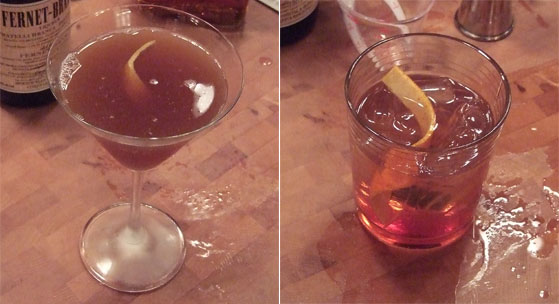 Chris Stanley

Ingredients:
1 oz. Bourbon (a quality bottling such as Bulleit, Eagle Rare, etc.)
1/2 oz. Fernet Branca
1/2 oz. Domaine de Canton liqueur
1/2 oz. fresh Lemon juice
1/4 oz. Petite Canne Sugarcane syrup (sub. 2 Tsp 1:1 Demerara/Raw sugar Simple)
Lemon twist

Instructions:
1. Combine liquid ingredients in a mixing glass with plenty of ice.
2. Shake well (~15 seconds).
3. Fine-strain, up into a chilled cocktail glass.
4. Garnish with the Lemon twist.

Bob Schmitt

Ingredients:
The key here is the quality/quantity of bourbon against the splash size of Roses and Cointreau. The bitters and cherry syrup are critical and cannot be left out. To dry it out, reduce quantity of vermouth.

In an Old Fashioned glass:

-2oz Bourbon, preferably Woodford's Reserve or Jim Beam Black.
-2 tbsp Dry Vermouth
-Splash Roses Lime Juice
-Splash Cointreau
-4 dashes, Angostura bitters
-1/4 tsp maraschino cherry syrup

Instructions:
Garnish with
-Orange peel, 3 inch curl
-Maraschino cherry
Winner:
Bob Schmitt
Score:
5-0
Game Summary:
The Canton turned out to be too perfumey and gingery. Would make an excellent oral anesthetic. Bob Schmitt's cocktail had great nose, and while the tongue wasn't quite equal, still enough to win unanimously.
See the full tournament field