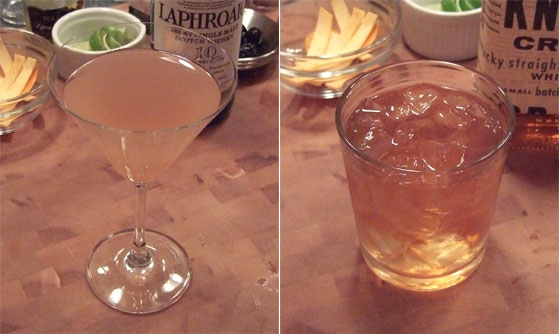 Christopher Null

Ingredients:
Laphroaig 10 Years Old Scotch whisky (for rinsing)
2 oz. anejo tequila
1/2 oz. grapefruit juice
splash of agave nectar

Rinse a cocktail glass with the Laphroaig and pour most of it out. Add remaining ingredients to an ice-filled cocktail shaker. Shake and strain into the prepared glass. Don't bother with a garnish.

Bryan Swanson

Ingredients:
2 oz Bulleit bourbon
1 oz Berentzen Apfelkorn
1/8 oz Laphroaig 10-year scotch
2 dashes Angostura bitters

Combine all ingredients in a mixing glass filled with ice. Stir vigorously for 20-30 seconds. Strain into ice-filled rocks glass.
Winner:
Bryan Swanson
Score:
5-0
Game Summary:
Null's is a fine update to the margarita, but Swanson's is more of a cocktail, and an extremely tasty one. The Berentzen Apfelkorn really softens the bourbon, making it more interesting and drinkable. In fact, it makes it so drinkable this is a highly dangerous cocktail if consumed by amateurs.
See the full tournament field
Contest sponsored by
KegWorks