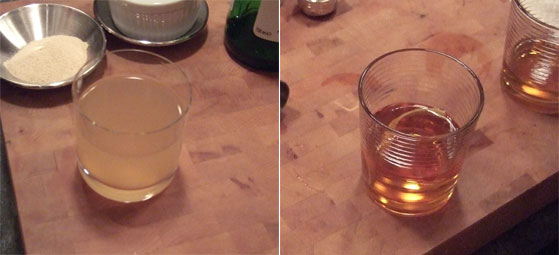 Christopher Null

Ingredients:
Laphroaig 10 Years Old Scotch whisky (for rinsing)
2 oz. anejo tequila
1/2 oz. grapefruit juice
splash of agave nectar

Instructions:
Rinse a cocktail glass with the Laphroaig and pour most of it out. Add remaining ingredients to an ice-filled cocktail shaker. Shake and strain into the prepared glass. Don't bother with a garnish.

Jeremy Beals

Ingredients:
1/4 oz absinthe
3 oz Rhum Barbancourt 5 Star (8 year aged)
1 1/2 oz Domaine de Canton
2 dashes Angostura bitters
2 dashes Orange Bitters
Lemon twist

Instructions:
* Rinse a rocks glass with absinthe.
* Add remaining ingredients excepting lemon twist to a shaker full of ice and shake until cold.
* Strain into pre-rinsed glass and squeeze lemon twist over top. Rub lemon peel around the rim of the glass and drop into the drink.
Winner:
Christopher Null
Score:
5-0
Game Summary:
We found Beals' cocktail to be too heavy-handed, perfumey, and impossible to finish. It's like an old lady sat on your face and won't get off. Null's cocktail is a strong contender.
See the full tournament field