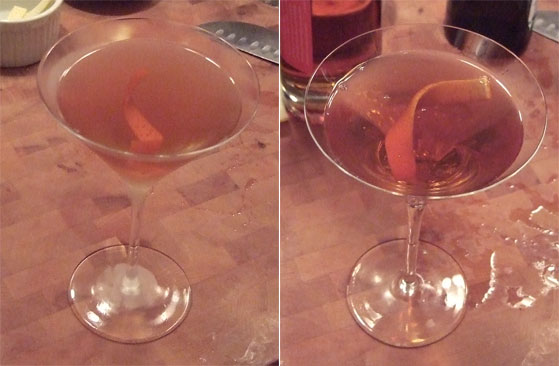 darin hanson

Ingredients:
1 oz Lairds Applejack
3/4 oz Makers Mark
3/4 oz Domaine de Canton
3-4 dashes Fee Bros Whisky Barrel Bitters
1/2 Tsp Simple Syrup

Instructions:
Add ice and stir until chilled. Strain into a chilled cocktail glass and garnish with an orange twist.

Todd Greeno

3 oz Canadian Whiskey (i.e.: Crown Royal or Canadian Club)**
1/2 oz dry vermouth
1/2 oz Dry Sack
1/2 oz Harveys Bristol Cream Sherry
4 dashes Angostura bitters

Instructions:
1. Combine all ingredients over ice in a shaker.
2. Cover & shake vigorously.
3. Strain into a chilled Martini Glass.
4. Garnish with an Orange peel curl.

** Variations: Substitute Scotch or Bourbon for the Canadian Whiskey.
Winner:
darin hanson
Score:
3-2
Game Summary:
A tough call between Greeno's flamethrower and Hanson's somewhat sweet mixture that would be a hit at a sushi bar. Hanson by a whisker.
See the full tournament field