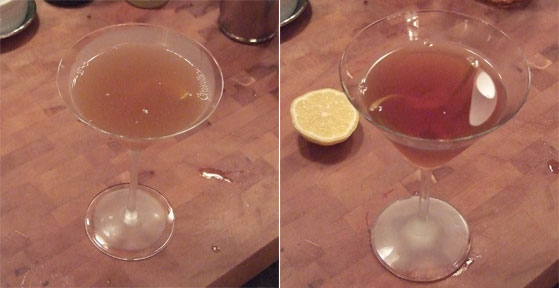 Dave

Ingredients:
1.5 oz Bourbon
0.5 oz Maple Syrup
0.5 oz Lemon Juice
Lemon Twist for Garnish

Instructions:
To make this cocktail, combine the bourbon, maple syrup and lemon juice in a shaker glass 2/3 full of ice and stir. Once the drink is appropriately chilled, which will take about 15 seconds, strain into a martini glass. Use a zester to make your lemon twist, aiming for a medium width and a slight curve on the twist. Enjoy.

Ben Allen

Ingredients:
2 oz rye whiskey (Rittenhouse bonded)
1/2 oz Cointreau liqueur
1/2 oz Jagermeister liqueur
2 dashes Angostura bitters

Instructions:
Stir all ingredients with cracked ice and strain into chilled cocktail glass. Twist lemon peel over glass and add as garnish.
Winner:
Ben Allen
Score:
3-2
Game Summary:
This was almost an overtime game. Dave's cocktail is lively on the tongue and lingers in a good way. We will be mixing this again, and fairly frequently in the depths of winter. Unfortunately it ran up against Ben Allen's highly drinkable Jagermeister juggernaut that kept us going back for more. The sophistication of a cocktail containing Jagermeister was the highlight and surprise of the evening.
See the full tournament field