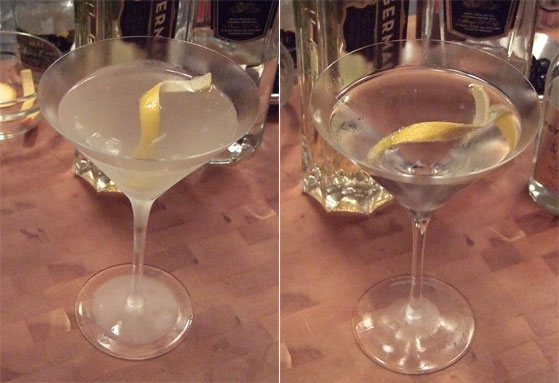 David McCabe

Ingredients:
1.5 Oz Dry Gin
0.75 Oz St Germain Eldeflower Liqueur
0.50 Oz Fresh Squeezed Lemon Juice
Lemon Twist for Garnish

This is a very simple cocktail, which gives it great mass appeal. Combine the gin, the St. Germain, and the lemon juice in a shaker. Fill with ice and shake. Now shake some more. And a bit more. When it's too cold to shake, just give it one or two more good shakes. Serve it up in a martini glass and garnish with a lemon twist.

Chris Gerber

Ingredients:
3 parts Plymouth Gin
1 part High Proof Vodka (such as Red or Blue Label Stolichnaya)
1 part Dry Vermouth

Shake in chilled shaker over cracked ice, or stir, and strain into chilled cocktail glass, topping glass off with:

Fever Tree Tonic Water (1/3 a bottle, or about 3 oz)

and garnishing with a perfect MB's choice Lemon Twist
Winner:
David McCabe
Score:
4-1
Game Summary:
Gerber's drink is a nice, upscale twist on the gin and tonic, but without somehow icing the tonic it was a touch warm. The lemon-eldeflower balance of McCabe's cocktail is pretty awesome. A pitcher of these would go great with a cricket test match.
See the full tournament field
Contest sponsored by
KegWorks