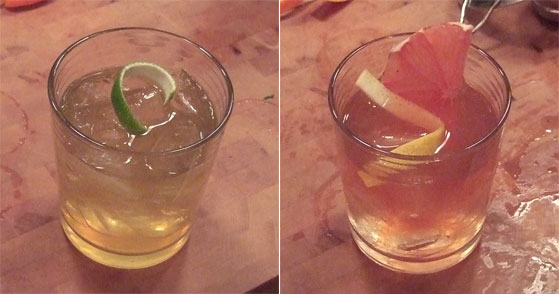 Gary Cartwright

Ingredients:
4-6 mint leaves
1 3/4 oz bourbon
3/4 Citronge or other quality triple sec
splash sweetened lime juice

Instructions:
Rip and lightly crush mint leaves in a shaker tin with spoon or whatnot, then add lots of ice, the spirits and lime. Stir well, until tin dews up, and strain carefully over ice, with a lime twist or wheel garnish.

Chris Weigert

2 1/2 oz rye whiskey
2 fresh raspberries
3 dashes grapefruit bitters
juice of 1/6 lemon (of your average small lemon slice)

Instructions:
shake all well with ice, allowing the berries to be crushed in the shaker. Double strain into a DOF glass filled with ice. Garnish with lemon twist and a small slice of grapefruit.
Winner:
Gary Cartwright
Score:
5-0
Game Summary:
Weigert's raspberries weren't enough sweet to balance the sour. Cartwright's drink kept going; we wanted to keep exploring. It's very well balanced with subtle notes from all the ingredients.
See the full tournament field