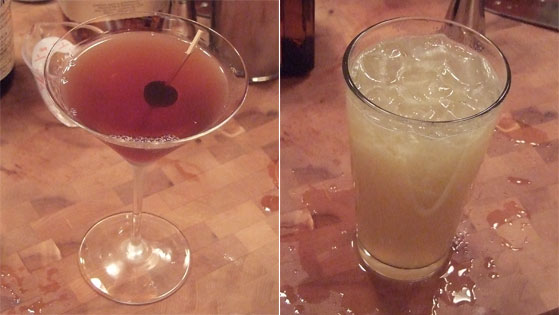 Matt Konrad

Ingredients:
2 oz Rhum Barbancourt
1/2 oz Gosling's Black Seal Rum
1/2 oz Cointreau
1/2 oz Cherry Heering
1/2 oz sweet vermouth
2 dashes Angostura Orange Bitters

Instructions:
Measure all ingredients into glass half of Boston shaker. Shake with ice. Strain into chilled coupe or martini glass. Garnish with a maraschino cherry and a redhead who can tie the stem with her tongue.

Conrad

Ingredients:
1 ounce of Simple Syrup
1 Egg White
Juice from a fist squeezed half of a lemon
2 oz of Bourbon
1 oz of Absinthe

Instructions:
Dry Shake (do not shake with ice) the ingredients and poor into a high-ball or a Pint glass filled with ice. Top off with ginger beer. Enjoy.
Winner:
Matt Konrad
Score:
4-1
Game Summary:
We were intrigued by Conrad's egg white drink but were overwhelmed by the ginger. Matt Konrad's cocktail was on the sweet and syrupy side yet had enough complexity to dominate the matchup.
See the full tournament field