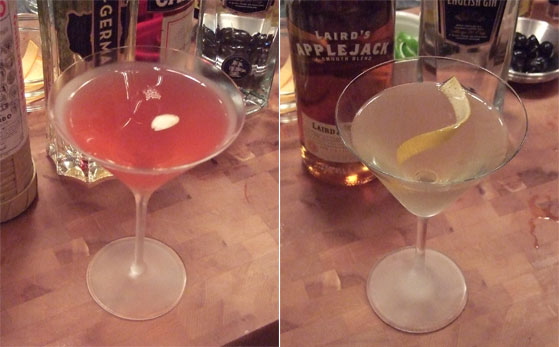 Michael Oakley

Ingredients:
2 oz tanquery 10 gin
1/2 oz campari
1/2 oz st. Germain
1/4 oz luxardo maraschino liquor
1/8 oz orgeat
2 dashes Fee's barrel aged whiskey bitters

Stir with twice the amount of ice you usually use and garnish with an almond flake

John Dietl

Ingredients:
1.5 oz. London Dry Gin
0.5 oz. Bonded Apple Brandy
1 tsp. simple syrup (1-to-1 sugar to water)
4 drops Orange Bitters
1 lemon twist

1. Pour the Gin, the Apple Brandy, the simple syrup, and the bitters into a mixing vessel.
2. Stir with ice.
3. Strain into a cocktail glass.
4. Garnish with a lemon twist.
Winner:
John Dietl
Score:
3-2
Game Summary:
Oakley's cocktail was called "exciting" by one judge, but the majority of the others could not conceive of finishing the whole thing. Plus it's a bit fussy. When we have the Spectacular Bitch cocktail contest, this could be the winner. Dietl's drink is simple, beautiful, enjoyable.
See the full tournament field
Contest sponsored by
KegWorks
POURCAST
BETA
Currently in
Minneapolis, Minnesota

65° Clear/Sunny

Feedback? editor@magnificentbastard.com
recent posts
Q: Have you got any recommendations for a stylish pair of headphones? I'm trying to avoid anything...

Dear Bastards: I've been learning from you for a decade now and finally have reached a level of success as...

Last week Canali announced the arrival of the "shacket," the...

Here in Cocktail Zone 6 it still feels completely natural — even obligatory — to be holding brown liquor as we...
---
ask mb
Got a style question? We're all ears. And antlers. Ask away.
---
tip mb
If you know about something you think we should know about, let us know (so we can pretend we knew about it all along). Send a tip.
---
features
---
channels