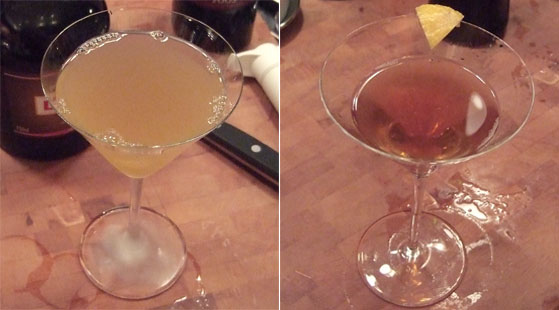 Sean Zimmer

Ingredients:
2 parts Alberta Premium Rye Whiskey
2 parts Drambuie
1 part Cointreau
1.5 parts fresh lime juice

Instructions:
Stir with ice 10 times clockwise, 10 times counter-clockwise. Drain into chilled martini glass. Repeat until Bastardized.

rodmitch

Ingredients:
1 part each dark rum, tequila, sweet vermouth
1 squeeze of a lemon wedge
dash of bitters

Instructions:
pour over ice, shake, strain, and garnish with a lemon wedge
Winner:
Sean Zimmer
Score:
5-0
Game Summary:
rodmitch's cocktail was bitter and flat. Meanwhile, the Sean Zimmer concoction was awesome; a really nice balance between the sweet, the juice, and the base liquor. Who needs a garnish?
See the full tournament field