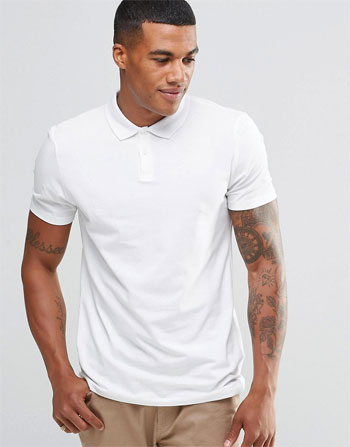 Last spring we recommended ASOS white polo shirts as an option for disposable knitwear when it's all but guaranteed to suffer a 100 percent casualty rate amidst the chaos of summer leisuring. While the ASOS shirts have deflated to $16.50 from $18.00 in the past 18 months, we've found an even better option for Indian Summer 2016 and Regular Summer 2017: New Look.
They share the same athletic-but-not-binding fit, have printed tags, and also a pedigree; previously-purchased New Look gear has been well made and rugged. The best part: they're 13 bucks.
The only downside is the increased level of first-world guilt. While the ASOS shirts are made in Indonesia, New Look polos are made in Bangladesh, which makes Indonesian production look like a Hermès factory. We've found the best solution for dealing with this issue is consuming an additional ½ Magnificent Bastard cocktail.