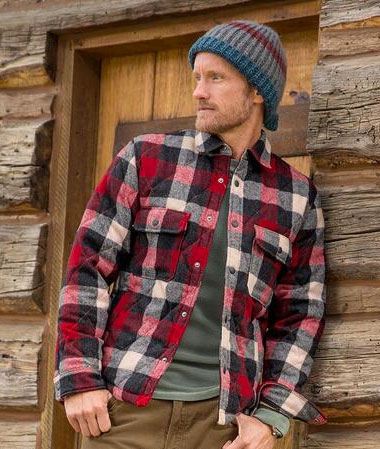 A clear sign that plaid is comfortably post-peak enough to start wearing again? Robert Redford, purveyor of the Sundance Catalog, is practically giving you the shirt off his back in the wake of this holiday season, with a 50 percent additional discount on a garment already marked down from $295 to $234.99. Price in the cart: $117 and change.
A few years ago, we started chopping down trees to fuel our living-room hearth while enjoying our nightly Magnificent Bastard cocktail. This year, we've both upped our drinking and made a pledge to go beyond aesthetic fires to actual home-heating. Our goal is to cut our monthly electric bill so drastically at least one coal-miner will be forced into early retirement.
That means we're doing more felling and bucking than ever. So while we already own one Quilted Mill Shirt Jacket, it's time for another. Especially since Mr. Redford is currently dispensing them on such favorable terms we half-suspect we're being set up for some con. But all that Bulleit and Laphroaig is making us reckless so we're clicking the "Add to Bag" button. Let's just hope the only sting involved here, is the sting we'll be taking out of those cold January afternoons when we're wearing our new shirt jacket and splitting and stacking the day's bounty.
NB: Woolrich is sized large. If you are in between sizes order one down.