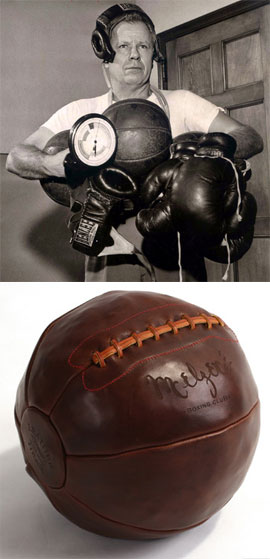 We're pretty sure that tossing around a 12 lb. sack of leather scraps is not the best way to prepare for the marathon we're planning to run later this year. Then again, a strong stride starts with a strong core. And we're going to have to do something to mitigate the fact that we'll be wearing synthetic leather running shoes a lot more than we're comfortable with. The Melzer's Boxing Club Chromexcel Medicine Ball is certainly one way to do that. It is the Macallan 25 of medicine balls -- understated, expertly crafted, and guaranteed to age beautifully.

According to Context Clothing's Ryan Huber, the ball replicates one his grandfather Melzer Rhey, aka "Bear Grease," used for over 50 years as a Golden Gloves boxing coach in Kenosha, Wisconsin. Each ball is hand-made by Pete Cunningham of Leather Head, using Horween Chromexcel leather for the shell and filled with 12 lbs. of leather scraps and kapok stuffing, a natural fiber made from the seed pods of a tree that grows in the South Pacific.

The first 50 sold out quickly in December, but Context now has a new batch in stock. Get one now while they last.