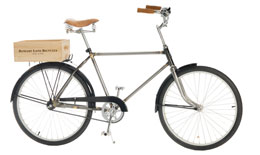 It's Bike to Work Week, and to celebrate, we've decided to give away a hand-made steel bike from Bowery Lane Bicycles, a $695 value. If you'd like to win it, take a photo that's suitable for our masthead. It must have a bike in it. A pretty girl wouldn't hurt your chances either. Send it to us by June 18, and if we choose yours, you'll get your choice of Bowery Lane's current three models, the Broncks Raw (our personal favorite), the Broncks Black, or the Breukelen.

A while back, a reader introduced us to Bowery Lane. Based on the look of their bikes, we gave them a tentative thumbs-up, but a steel bike hand-made in the U.S for only $695 sounded too good to be true. Then we discovered that Bowery Lane's bikes are actually manufactured in a Brooklyn-based factory that has been making bikes in the U.S. for almost as long as bikes have been being made, i.e., 1898, and has a great reputation for producing durable, dependable bikes. The founders of Bowery Lane, on the other hand, come from apparel industry backgrounds, and count Ralph Lauren, Bloomingdales, Urban Outfitters, and Barneys amongst their former employers and current clients. That combination of bike industry experience and apparel industry style has resulted in a great-looking but functional line of one-speed city bikes, and we're excited to be offering one to one lucky reader in honor of Bike to Work Week.

See the complete contest details. Browse our previous mastheads to see the sort of look we're after. Dimensions are 960 x 253.