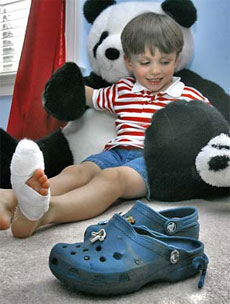 The horror!
Four-year-old Rory McDermott got a Croc-clad foot caught in an escalator last month at a mall in northern Virginia. His mother managed to yank him free, but the nail on his big toe was almost completely ripped off, causing heavy bleeding.
Two takeaways from Rory's torn toenail:

1. Don't wear crocs (on an escalator).
2. Avoid footwear popularized by people young enough to still enjoy playing with stuffed pandas.