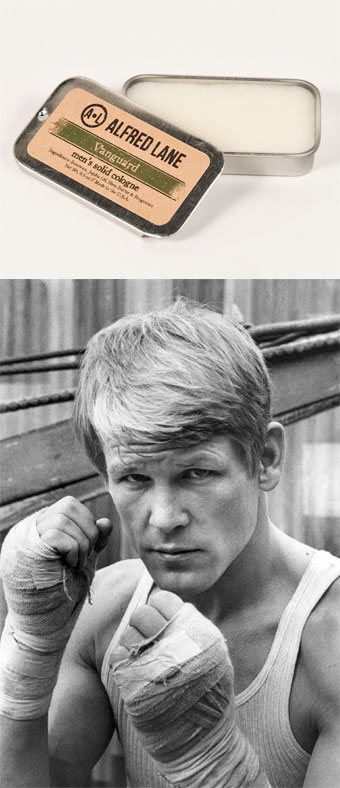 Okay, this is it — our last deal of 2014. From now until December 19, when you buy a tie or belt, we're throwing in a tin of Alfred Lane solid cologne — the Vanguard scent. Eventually we're going to be selling this in our store for $17.95. But it's Christmas time, we're feeling festive, and so we'll be handing them out for free to anyone who gets a tie, a belt, or oil painting.
Until December 19, that is. Then we're headed to Costa Rica to surf for two weeks, and we won't be back until January 3. (You can order merchandise during this time; we just won't be shipping until January 4.)
Okay, got it? Now, we suppose, it's time to address a question longtime readers may have. "Wait," you're probably saying, if you fit this description. "You guys don't like cologne. Why are you selling it in your store?"
And it's true that while answering a question about Axe, we once exclaimed, "We're not fans of cologne per se." And then followed that up a month later with an even stronger declaration: "Ben, no such thing as a 'hot new fragrance' in our book. We've recently made our case against cologne."
But that was in 2008. We're six years older now, which means we're six years smellier. Someone gave us a tin of Vanguard a while back, and we were pleasantly surprised. Unlike traditional cologne, it's solid, which makes it easy to apply with a (literal) subtle touch. Just a dab on our gullet, and its crisp and manly scent — sort of like a filtered pine forest in which a slightly inebriated Nick Nolte is enjoying a bottle of top-shelf bourbon — neutralizes the faint whiff of impending death that now emanates from our wilting telomeres.
What we're saying is we use the stuff, and like it enough to carry in our store. And if you a buy a tie or belt before December 19, you can make your own assessments, on us. Merry Christmas!