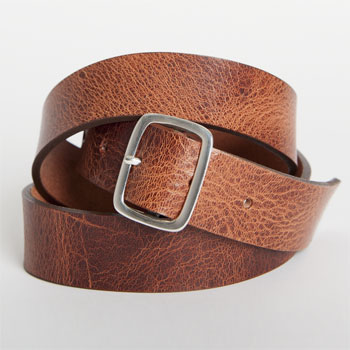 Earlier this year, while vacationing in California, we sampled some gelato made from water buffalo milk, and it was the smoothest, creamiest gelato we'd ever had. It got us to thinking — if water buffalos can be the foundation for great desserts, why not great belts too? So we started investigating, and months later, we've got a new product in our shop — The 300-Year Sterling Silver Buckle Belt: Water Buffalo Edition.
Like the first and no-longer-available version of this belt, this new edition features a beautifully crafted .925 sterling silver buckle by artist Mary Daughtrey. But this time around, the strap is made from water buffalo hide, which, as the photo attests, exudes a blend of rugged but polished character that makes it an understated show-stopper. Wait, rugged and polished? Understated and show-stopping? "You're throwing around a lot of paradoxes, guys," you may be saying to your screen right now. "What exactly are you trying to say here?"
We're saying your waist is going to be getting a lot of admiring double-takes if you buy this belt. And people are going to be asking you a lot of questions.
Here are your answers: You got it from Magnificent Bastard. The water buffalos came from India. The buckle was made in Arizona. The belts were manufactured in Minnesota. It only cost you $100, which, yes, is pretty amazing price for a belt that will stay in style for at least 300 years. (Amortize that, and it's less than a penny a week!) You're not sure if they can get one too — only a limited number were made. But they can try, if they hurry!