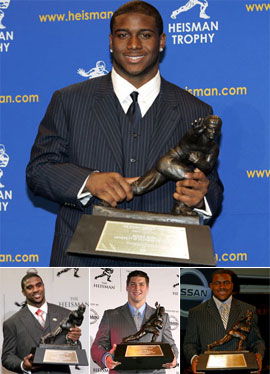 We always thought it was a package deal. You win the Heisman, you get the trophy and a cheap and boxy pinstripe suit to go with it.

But apparently not. In 2005, sports marketers gave Reggie Bush a rent-free home, a limousine, and the suit he wore when accepting the Heisman Trophy in December 2005.

Let's hope they had better taste in rent-free homes and limousines, because to lose a Heisman over a suit he could've picked up from a Men's Warehouse clearance rack is a damn shame.