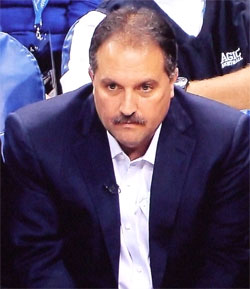 On September 30 the NBA implemented a new coaches' dress code that at the time was believed to prevent Orlando Magic coach Stan Van Gundy from wearing his signature mock turtlenecks. It immediately became known as The Van Gundy Rule.

Ten days later the Orlando Sentinel suggested Van Gundy's mock turtlenecks qualified under the letter of the rules, which state coaches and assistant coaches must wear:

(a) A long or short-sleeved dress shirt (collared or turtleneck), and/or a dress sweater;
(b) Dress slacks, khaki pants, or dress jeans;
(c) A sport coat;
(d) Dress shoes or boots (but not including sneakers, sandals); and
(e) Socks.

Any MB knows there is a world of difference between a turtleneck and a mock turtleneck, and it would appear Stan Van Gundy does, too, as he coached the Magic's season opener against Washington in a point-collar woven (and down about 15 pounds).

In other news, chronic mock turtlenecker Tiger Woods -- also in a collared shirt -- was at the Magic opener as well.