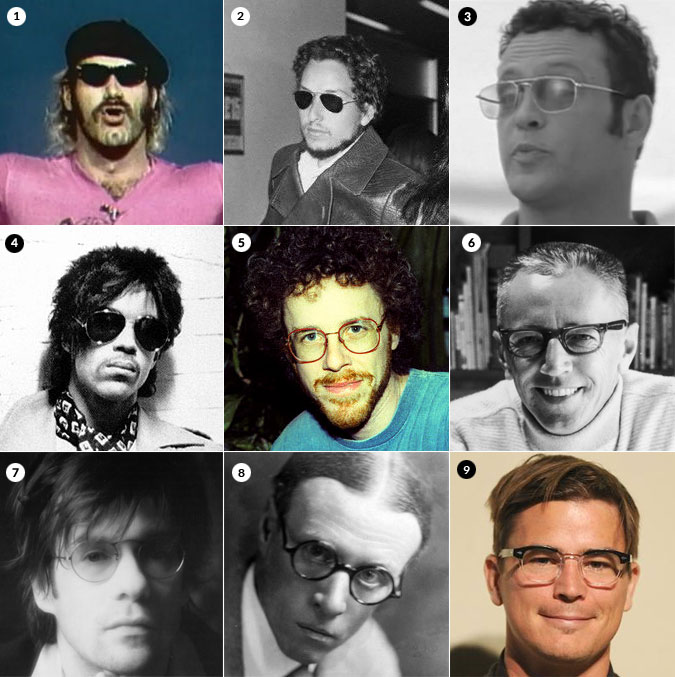 Here are the correct answers to the Challenge:

1. Jesse Ventura
2. Bob Dylan
3. Vince Vaughn
4. Prince
5. Ethan Coen
6. Charles Schulz
7. Paul Westerberg
8. Sinclair Lewis
9. Josh Hartnett

This year there were lots of entries with perfect scores, and unfortunately our tie-breaker question — what do they all have in common? — was too easy and answered correctly by all entries, even by the guy who thought Sinclair Lewis was Garrison Keillor. The answer: They were all born in Minnesota.

This forces us to rely on random.org to select a winner and runner-up, and those titles go to...

Joe Schachtner and Clint Miller.

Joe, enjoy your new pair of Allyn Scura frames. We always recommend the famed Legend, or for a more offbeat look, the Sergio. Both are terrific and consistently draw positive feedback. Alternatively, you can put your $125 credit towards a pair of Allyn Scura's vintage frames, like these Carrera 5595 sunglasses, modeled in a 1986 print ad by Formula 1 racing legend Niki Lauda. It's your choice.

Clint, as the runner-up you get to select a tie from our growing collection. Let us know what strikes your fancy and we'll send one out to you.

Thanks to everyone who played and we'll see you again next year for the 6th-Annual Challenge.