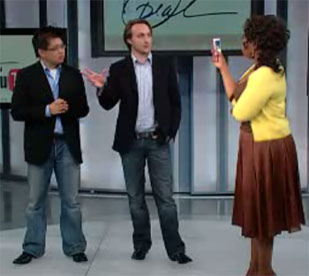 Billionaire YouTube founders Steve Chen and Chad Hurley on Oprah yesterday* demonstrating the Official YouTube Yuniform: blue blazer, open collar blue dress shirt, black belt, jeans, black dress shoes.

Whoa fellas! Take it easy!

See the video.

* We don't actually watch Oprah. Ever. We just saw the news about Oprah doing a YouTube show. We swear.