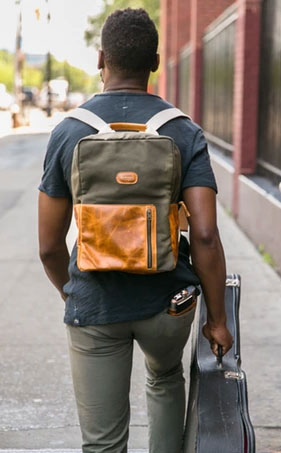 Here at MB, we like to travel lightly, especially on any excursion lasting less than 24 hours. That means we try to limit the things we carry to whatever we can fit in our pockets and maybe a small-ish correspondent bag or briefcase.
But we're also lifelong learners and committed library-goers, so we'll always have a place in our lives for a backpack that can comfortably hold a fortnight's worth of books. Which for us isn't a lot — we're slow readers.
Beyond that basic requirement, we figure less is more. If a backpack requires consultation with an architect to decipher its floorplan, it has too many compartments for us. If it can hold more than, say, a third of Suzanne Somers' collected works, it's too big. We like a backpack that exerts stringent curatorial judgment on our behalf.
All of which brings us to a Kickstarter project by BankNote NYC, a brand we hope to work with at some point if all planets align.
Their new backpack is made out of canvas, leather, synthetic cotton (?), and cork (!). That sounds complicated, but the object itself exudes a stylish simplicity. We're confident we won't need a map to navigate its chambers and sleeves, nor will we spend hours trying to discern the purpose of extraneous straps and buckles and grommets. See, it's making us more productive already and it doesn't even exist yet.
If, like us, you want to help bring it into being, you've got approximately three weeks left to pledge.