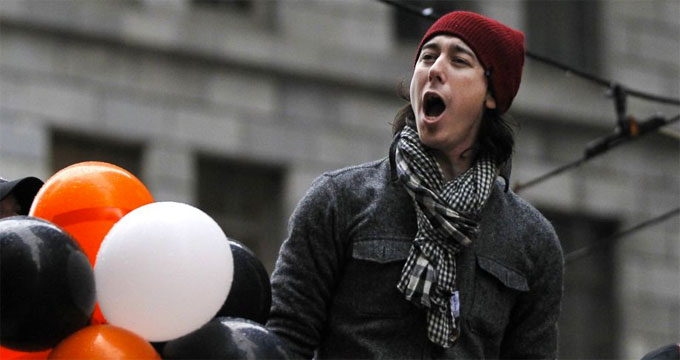 The Giants' World Series victory parade through downtown San Francisco was an alarming if not unpredictable display of brute toolbag power. Like a murderer's row of Jersey Shore extras, one player after the next swung for the fences and knocked good taste out of the park.
Between the "Kiss This Ring" sweatshirts and costume-jewelry title belts, and softball-sized watch faces, we weren't sure if we were watching a victory parade or a runway show for a Flavor Flav garage sale.
Even designated savior Madison Bumgarner did little to stem the rampant tide of toolbaggery. With his backward ballcap and orange garbage bag poncho, he looked like he was wearing a Darth Vader Halloween costume from The Nickel Store.
Luckily, relief finally showed up in the unlikely form of little-used pitcher Tim Lincecum. Though the one-time superstar only saw 1 ⅔ innings of action in the series, during a Game 2 loss to the Royals, his victory parade mechanics were in top form. No team colors? Check. No trash-talking commemorative sweatshirts or visible logos of any kind? Check. Well-tailored shacket paired with an artfully disheveled scarf and what looks to be a cashmere beanie? Check.
Put this guy back in the starting rotation, skip! He's ready to play.
Earlier: 7 Ways to Tie a Scarf Based on the Game-Time Temperature at Lambeau Field