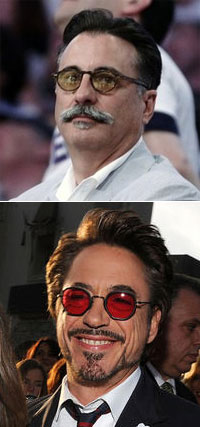 Did you just see Andy Garcia at the Lakers/Celtics game? He just made my weekend. This is worth noting. And celebrating.
--DC

A: Yes, we did note Andy Garcia at last night's game, and we're not sure if it was Andy Garcia or What Robert Downey Jr. Will Look Like in 10 Years.

TOP: Andy Garcia, 54, at last night's Lakers/Celtics game.

BOTTOM: Robert Downey Jr., 45, at the Iron Man 2 premiere in April.