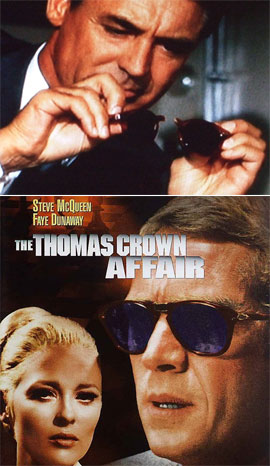 In your recent post "Cool Sunglasses for Summer 2010", I believe the Cary Grant sunglasses from North by Northwest are Persol P0714's. Just thought you and your readers would want to know in case people wanted to get a pair for themselves!
--Alex

A: Alex, you're getting your classic movie sunglasses mixed up. Steve McQueen wore Persol 714's in The Thomas Crown Affair (bottom). While Persol 714's are folding sunglasses, Grant's sunglasses broke in half while he was being stowed away by (the ridiculously sexy) Eva Marie Saint. And that's not the only reason we're virtually certain Grant's aren't Persols:

* They're lacking the trademark silver arrow
* The first known big-screen sighting of Persol was on Marcello Mastroianni in Divorce Italian Style (1961)
* Persol was first introduced to the U.S. in 1962
* North by Northwest was made in 1959

A definitive ID of Grant's sunglasses definitely requires more research, and we've got some of vintage eyewear's best minds working on it, but we suspect they're what we originally thought: horn-rimmed eyeglasses fitted with tinted lenses.