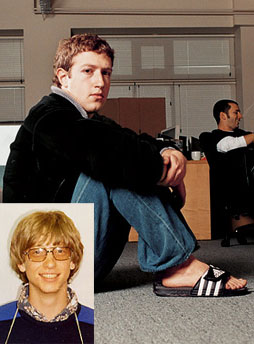 I read this on The Daily Beast and thought it prudent to advise the MB. Toolbaggery has a deadly weapon in its arsenal: Facebook founder Mark Zuckerberg.
--Dino

Over two years ago we added "The Principle of Not Looking Like Mark Zuckerberg" to the MB canon, so we're definitely aware of the threat his fleece, Adidas slides, and non-pedicured toes pose. However, it should be noted that the rise of Microsoft did not lead to widespread adoption of fellow Harvard drop-out Bill Gates' colorblock-sweater-over-floral-woven look.

Ed. note: We are officially madly in love with Rebecca Dana, the author of the Beast piece.