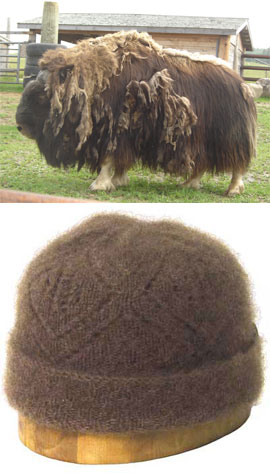 Forget cashmere hats. Qiviut is the wool of the muskox. It is ridiculously expensive and ridiculously warm. The material is thin and lightweight, yet warm enough to let muskox survive brutal winters in Siberia and northern Alaska. It's also more rare than cashmere. As an added bonus, the value of qiviut-made clothes goes up as they age because the material absorbs oils and becomes softer.
--Andrew

We welcome the tip from the Siberian Qiviut Producers Association, and weren't even aware this beast existed, since it looks like something that went extinct 10,000 years ago.

If you demand that your qiviut accessories be made in the USA, David Morgan sells a qiviut hat that's hand-knit by the Eskimo women of the Oomingmak Musk Ox Producers' Co-operative in Alaska for $170.