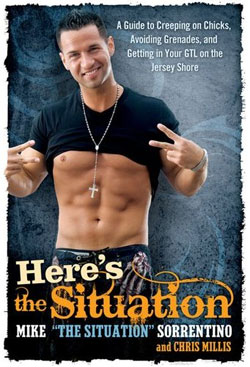 The forces of evil are everywhere, MB must be the light.
--Andre

From the inside cover:


Listen, dawg. You're probably hitting the gym, doing your tanning, and picking up fresh laundry every day. And maybe you've had some success beating up the beat and creeping on chicks in the club. But do you really think your situation is where it needs to be? Be honest with yourself, bro.

This book here will take your game to a level thought unattainable, given your physical limitations (because we can't all look like Rambo, pretty much, with our shirt off). We start with GTL-the bedrock of life itself. And then we hit the GTL Remix-the rules for getting your personal grooming did. From there it's my guide to the Jersey Shore, battle plans for the club, a primer on grenades and wingmen, and tips for ridding yourself of all levels of clinger. Then I look at the big picture: how to cook the perfect lasagna, how to find a life partner, and how to deal with being one of the most famous people on the planet-which is guaranteed if you follow my advice.

This is the bible for Situation Nation. Read it, live it, and crush it.
UPDATE: Reader Dan astutely observes: "Just in case you missed it, the amazon link you provided for The Situation's book has only two tags: 'hey ma' and 'euthanasia.' Perfection."