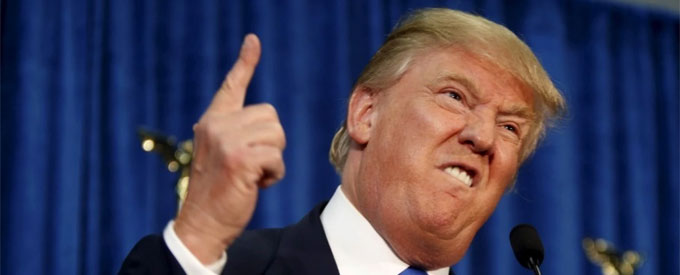 TIME-SAVING BUT LESS ENTERTAINING VERSION: 2 Made in USA ties for $60. 4 for $120. 8 for $240. Shipping included. Use code ANYONEBUTTRUMP at checkout.
We didn't think it was possible for us to think any less of Donald Trump than we already do. Then, he started talking about the economic realities of global menswear manufacturing.
Trump, of course, is a kind of toolbag da Vinci. He makes garish hotels, fussy golf courses, unwatchable TV shows, and generically glitzy menswear. Now that he's stumping for president on a platform of closed borders and trade protectionism, media watchdogs are starting to call him out for his seemingly hypocritical embrace of ill-tailored immigration — most of the clothes that bear his name are made overseas.
A couple weeks ago, investigative tie-wearer Jake Tapper donned a Trump tie for an interview with the candidate. Like most of the shiny corporate ball-ticklers in the Trump line, this tie was made in China.
When Tapper asked him about whether it was hypocritical to complain about losing jobs to China and Mexico while outsourcing the production of his clothing line to such countries, Trump responded that it is "impossible for our companies" to compete with Chinese ones because of how its government manipulates its currency.
Pressing him on the issue, Tapper asked, "What do you say when somebody says why don't you be a leader and make them in Philadelphia? I'd be willing to pay more for this tie..."
In reply, Trump exclaimed, "It's very, very hard to have anything in apparel made in this country." The implication: You just can't find American clothing manufacturers, at any price.
The truth, of course, is that there are plenty of American clothing manufacturers these days. And in many cases, they're not even economically prohibitive.
Take, for example, ties. Tapper encouraged Trump to start up a tie-manufacturing concern in Philadelphia. In reality, Trump wouldn't need to start something from scratch. Nor would he have to go to Philadelphia.
Our Magnificent Bastard ties are made in Queens, New York, which, coincidentally, is also Donald Trump's birthplace.
When we decided we wanted to make ties, we weren't on a quest to find a U.S. production facility or anything like that. We just wanted to find a place that made high-quality ties at prices a small brand like ourselves could afford. And ultimately it wasn't that hard to find such a place — we think we spent a few hours.
No doubt we could find a factory in China or Taiwan that makes ties even cheaper than our supplier does. But the truth is this family-run company in Queens, which has been making ties since 1957, offers very competitive prices. In fact, its prices are so competitive that we are able to offer hand-stitched, natural fabrics ties, including some that come with poetry attached to them, for $60.
If you ask us, that's a bargain.
But as it turns out, Trump's ties are even less expensive — at least at the moment. On Amazon, you can currently get one of his shiny corporate ball-ticklers for $29.99.
That puts us in a place where we're going to have to put our money where our mouth is, so that's what we're doing.
Yes, we're having a sale.
Just to prove that good old American know-how and entrepreneurism can still compete with Chinese tie sweatshops equipped with color-blind slave robots, we are offering the following deal, now through September 1st (or until supplies run out): Two Made in USA ties for $60. 4 for $120. 8 for $240. Shipping included.
With your savings, you could (a) Buy a drink for an illegal immigrant who makes your life better in some way (b) Make a campaign contribution to any other candidate, or (c) Buy more ties from us.
Ultimately, of course, the choice is yours. Just be sure to use the code ANYONEBUTTRUMP when ordering.