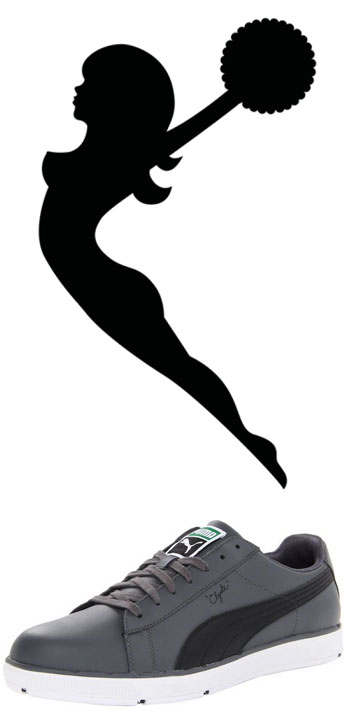 Q: Hey guys, was wondering if there's a new tie stock coming to the shop? Something for the in-coming wedding season.
Also Allen Edmonds is now offering made-to-order golf-soles on some of their shoes if you wanted a golfing McAllister. Thanks.
—D. Holden
A: While our design and procurement processes remain somewhat "artisinal" — i.e., we are still a little too apt to negotiate with Shengzen factory reps when we've spent the afternoon testing Pourcast — we are slowly mastering the dark arts of product development and do indeed have some new things on the way. Including a tie that we believe will work well at weddings, bar mitzvahs, and funerals of those you loved very, very dearly. However, because of the artwork that will be featured on this tie's tipping — see image — we don't recommend wearing it if you're the groom. (Why start your honeymoon with a jealous wife?)
These ties will feature a bold heart-to-sword regimental stripe and are made of raw silk — perfect for spring, summer, and temperate climates throughout the year. The prototypes are done, so they should be in stock within a matter of weeks. Check back often.
Now, on to the golfing McAllisters. If we were stuck in jury duty in a courtroom with enough room to practice our chipping, we would definitely consider these. They are a handsome shoe — but given that we we find ourselves wearing sneakerized footwear even in places where we might have worn lace-up oxford dress shoes (court appearances, board meetings, IRS audits), we can't really imagine wearing lace-up oxfords on fairways, even if they have the sole for it.
Our current favorite golf shoes are these Puma Clydes, which deliver sporty style but maintain a comfortable distance from Ricky Fowler territory. We recommend them in Castlerock. But at the prices you can currently get them at Amazon — approximately $30 to $45 a pair, depending on color and size — you can buy a different color for every day of the week and still spend less than you would on a single pair of the the McAllisters.