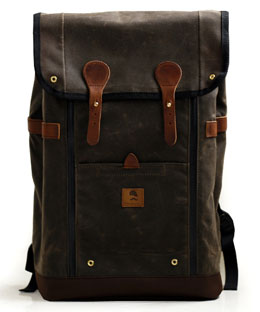 Q: I'm a student who needs an MB bag or backpack of some sort. I have to carry around a laptop and up to two textbooks almost all day. Got any recommendations?
--Sam

In general, we think that if you're carrying so much stuff you need a backpack, you're carrying too much stuff. But it warms our hearts to hear that there's at least one college left in America that is still making its students read -- or at least carry around -- actual ink-on-paper textbooks. And conveniently, we recently discovered, via Selectism, the Babylon Backpack from Wheelmen & Co.

These days, we see a lot of trophy backpacks, which is to say, backpacks that look great in a photo shoot but quickly become painful when put into actual use. Wheelmen's Babylon backpack combines traditional materials (waxed cotton, leather) with just enough modern comforts (padded shoulder straps, foam back panel) to make it truly functional. It honors tradition without slavishly deifying "heritage."

There. Now you've got both a good backpack recommendation plus a start on your next American Studies essay. How's that for service?

Earlier: A rare Opening Ceremony/Pendleton collaboration that did not almost blind us. In fact, we liked it a lot.

Earlier: We like this prehistoric hippie bag from Jansport.