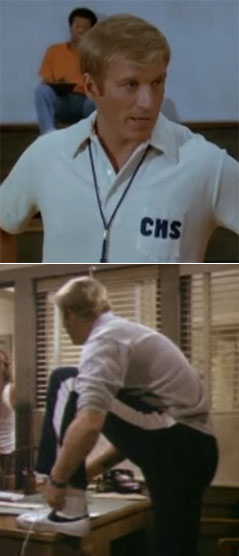 Q: Dear MB: I am a basketball coach and would like to carry my magnificent ways from the classroom to the practice court. What kind of athletic apparel do you recommend to keep me on the magnificent path. Thanks.
--Press

A: Press, the answer to your question lies in a '70s TV drama. Ken Reeves, aka "The White Shadow," shows the way magnificently, just as he showed Carver High's ball club how to run the high pick-and-roll with Coolidge and Salami: fitted white polo with deep placket and pointed collar, slim track pants with contrast side stripe(s), and low-top sneakers.

Here's how to pull it together:

* Wyatt jersey pocket polo, via bluefly.com
* Nike Silver Vintage Killshot shoes, via urbanoutfitters.com
* Adidas Superstar track pants, via shopadidas.com
* Metal whistle from the American Whistle Corporation, the only metal whistle manufacturer in the U.S.